In The Kitchen
Fish Tacos With Avocado-Mango Salsa
A fusion of flavors and cultures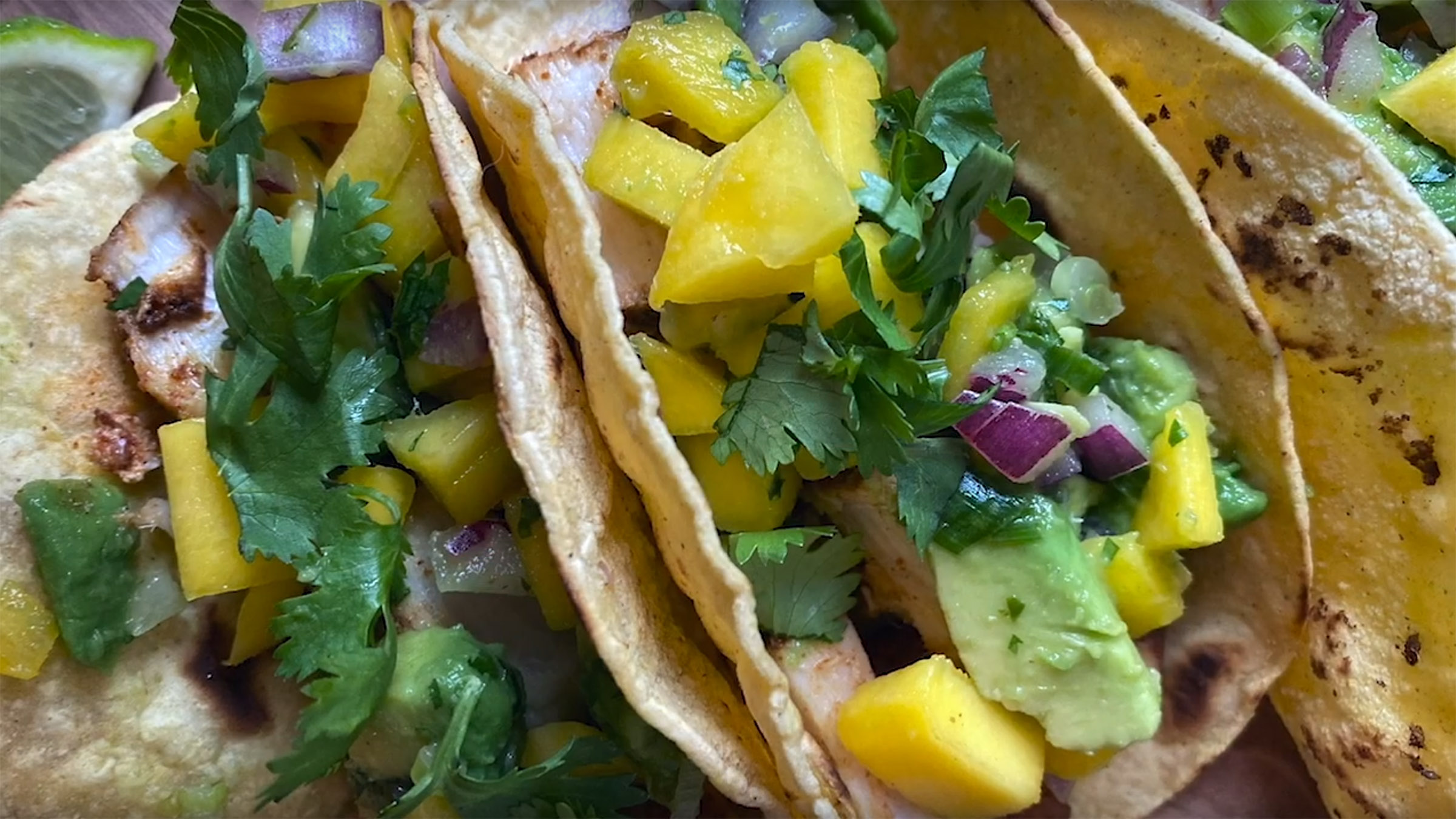 National Hispanic Heritage Month is celebrated annually from September 15 to October 15, and pays tribute to the history, culture and traditions of Americans with Hispanic ancestry. One way to honor this celebration is through food!
Many aspects of the American diet come from Latino influences – items such as avocado, cilantro and tortillas, to name a few. In this edition of Homegrown In the Kitchen, Catherine Hill, a nutrition expert with NC State University, shares a simple, savory recipe combining these traditional ingredients with a few non-traditional items to create Fish Tacos with Avocado-Mango Salsa.
Recipe
Fish Tacos with Avocado-Mango Salsa
Ingredients
1 tablespoon ground cumin
½ teaspoon salt
½ teaspoon paprika
½ teaspoon chili powder
2 garlic cloves, minced
1 pound mahi mahi fillets
1 tablespoon olive oil
1 cup sliced avocado
⅔ cup finely chopped peeled ripe mango
¼ cup chopped green onions
¼ cup finely chopped red onion
2 tablespoons finely chopped fresh cilantro
1 tablespoon fresh lime juice
8 (6-inch) whole-wheat tortillas (can be substituted for corn tortillas)
Instructions
Mix together the cumin, salt, paprika, chili powder and garlic and rub over the fish.
Heat a large skillet over medium heat. Add olive oil to a hot pan.
Add fish to pan and cook for 2 minutes on each side or until done. Remove from heat. Keep warm.
In a medium bowl, combine avocado, mango, green and red onions, cilantro, and lime juice to make salsa.
Warm tortillas over a hot pan for 30 seconds on each side or until warm.
Separate fish into pieces and divide evenly among tortillas.
Top with 2 tablespoons of salsa on each taco.
Print

Recipe
Incorporate different flavors and spices into your weekly eats by exploring these additional Hispanic-inspired Med Instead of Meds recipes:
For more information about National Hispanic Heritage Month, please visit hispanicheritagemonth.gov or oldwayspt.org/blog/national-hispanic-heritage-month-¡homenaje-la-comida.