On The Farm
A Sweet (Potato) Success Story for North Carolina
If you've enjoyed a silky, savory sweet potato during the last 40 years or so, chances are good that it was grown in North Carolina, where roughly 70% of all sweet potatoes in the U.S. are produced.
And if you haven't eaten a sweet potato lately, now is the perfect time to reacquaint yourself. Once considered a seasonal food, making the occasional cameo during holiday meals, North Carolina sweet potatoes are now enjoyed year-round — in upscale restaurants, as a healthier alternative to French fries, and in products as varied as vodka, sausage and muffins!
North Carolina produces more sweet potatoes than all other states combined.
While the term "superfood" gets thrown around a lot — there's no official definition by regulatory authorities — we all can agree that the sweet potato is truly a super food. From its vast and varied health benefits (it's packed with vitamins, minerals and the antioxidant known as beta-carotene), to its economic benefits ($170 million annual impact and 5,000 jobs in North Carolina), it's no wonder the sweet potato is the official state vegetable of North Carolina.
Watch as Mike Boyette, Philip Morris Professor in biological and agricultural engineering, sheds more light on these sweet spuds and how NC State helps our farmers grow, harvest and deliver them to your table.
Sweet Science
Call it a sweet potato renaissance of sorts, which NC State helped to bring about with the introduction of a new sweet potato variety, Covington, in 2005.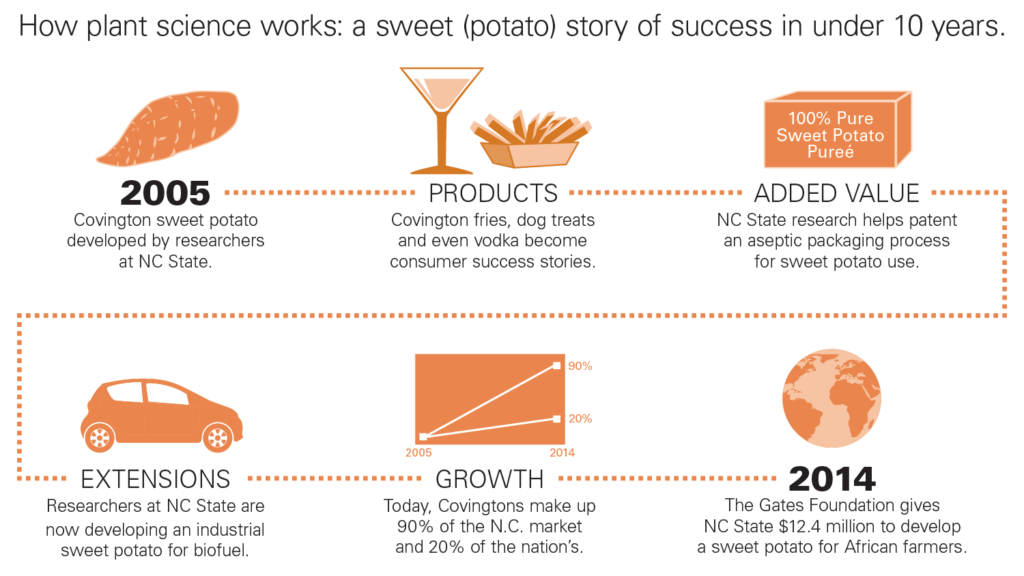 Life Cycle of a Sweet Potato
STARTING: Sweet potatoes are grown from vine cuttings, called sprouts or slips, rather than from seed. Some farmers start their sprouts in greenhouses, but others grow sprouts by "bedding" small sweet potatoes in March. Whole sweet potatoes are put on top of the ground and then covered with a thin layer of soil and plastic.
TRANSPLANTING: Sprouts are cut and transplanted — either from a greenhouse or "bedding" field — to another field in May and June.
GROWING: It takes 90-120 frost-free days to grow a sweet potato. They grow under the ground.
HARVESTING: The harvesting of sweet potatoes typically starts in August. Tractors are used to flip them on top of the ground before they're harvested by hand to protect the delicate skin. They are graded and sorted according to their size.
CURING: Most sweet potatoes are cured for 4-7 days at 80-85 degrees Fahrenheit so they can then be stored for up to a year at 55 degrees with 85-90% humidity and adequate ventilation.
More Resources