On The Farm
This Spud's for You: North Carolina Potatoes
Inside the industry that's all that and a bag of chips
North Carolina produces well over 200 million pounds of potatoes each year, the vast majority of which are processed into potato chip products.
In fact, if you live just about anywhere in the Eastern U.S. (which includes most of the country's population), whenever you tear into a bag of potato chips, you're probably enjoying North Carolina potatoes.
The primary potato variety grown for chipping in North Carolina is the Atlantic, with many familiar brand names — Frito-Lay, Utz and Wise, for example — sourcing their chipping potatoes from North Carolina during the summer.
More than 70% of North Carolina potatoes are processed into potato chips, accounting for most of the chip products in the Eastern U.S.
The remaining 25% to 30% of the state's spuds, which still add up to more than 60 million pounds of potatoes, are grown for the fresh market and can be found at grocery stores across the Eastern U.S. and into Canada.
North Carolina-grown fresh market potatoes — or "table potatoes" — are lumped into three main categories: red potatoes, white potatoes and Yukon Gold potatoes. Learn more about potato varieties grown in North Carolina.
North Carolina potato growers, mostly clustered in the northeastern region of the state, harvest potatoes during the summer months (roughly June through August). This provides the state with an advantage over other regions, which typically harvest before or after summer.
As a result, North Carolina potatoes usually go directly to their destination, spending no or little time in storage. Potatoes in North Carolina can be harvested, graded, washed and shipped fresh from the farm to chip processors or grocery store shelves within two days.
North Carolina potatoes rarely spend time in storage, shipping fresh from the farm to chip processors or stores within two days.
Potato Types and Prep Tips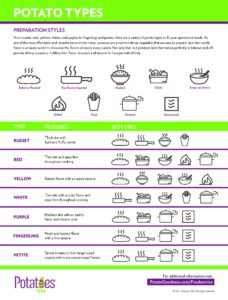 The Spud-tacular Science Behind Your Food Supply
Never content to let the (potato) chips fall where they may, food scientists at NC State University are continuously researching ways to improve potato production practices and provide an advantage for farmers, from pest and nutrient management to variety selection.
NC State scientists also work to breed potatoes better suited for North Carolina's climate and market demands. A key component involves field trials, where the researchers collaborate with farms, industry groups and other universities to grow test plots of potatoes.
By growing different varieties under different conditions, scientists can identify and improve upon the potatoes that perform best by cross-breeding them to create new varieties. Imagine piecing together your perfect Potato Head, only in this real-world scenario, science selects the ideal parts.
It's a system of constant improvement meant to benefit farmers and consumers alike, where the goal, according to Craig Yencho, program leader for NC State's potato breeding program, is to identify the next gold-standard potato variety for production in North Carolina. And once they've found it, the cycle starts anew.
You might say these scientists have a chip on their shoulders.
Special thanks to Black Gold Farms in Columbia, N.C., for hosting the Homegrown team and supporting the development of this video segment!