On The Farm
Science to Scoops: Behind-the-Scenes With NC State's Dairy Enterprise System
NC State's Dairy Enterprise System is a one-of-a-kind initiative that's moo-ving N.C. agriculture forward and impacting your life in more ways than you might expect. Join Gary Cartwright, director of the Dairy Enterprise System, as he gives a behind-the-scenes look at how NC State is growing the N.C. dairy industry, supporting farmers that serve millions of North Carolinians, and still finding time to develop new Howling Cow ice cream flavors.
The Dairy Enterprise System uniquely positions NC State to address challenges across the dairy production spectrum. Our researchers advance the science of milk and dairy processing, while faculty teach tomorrow's leaders about the dairy sciences and food safety.
Ultimately, NC State Extension specialists transfer new tools and innovations to N.C. dairy farmers, helping them bolster their businesses through value-added products like ice cream, cheese and yogurt.
A Farm of the Future
NC State broke ground on a new Dairy Education Center and Creamery in April 2018, which will give visitors the unique opportunity to immerse themselves in a dairy farm (while indulging in Howling Cow).
Located at the university's Lake Wheeler Road Field Lab in Raleigh, the facility is taking shape as a farm of the future, serving not only as a classroom and research lab, but also an agritourism destination that will showcase the future of agriculture to school children, policy makers and the public.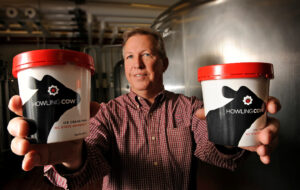 The emergence of the Howling Cow brand of dairy products in 2009 has given an entirely new appreciation and recognition to NC State dairy sciences, with students, faculty and local residents all flocking to indulge in Howling Cow ice cream at university events and the N.C. State Fair.
Howling Cow has been named a "Best-Kept Secret in the Triangle
Our State magazine even named Howling Cow as one of the "Best-Kept Secrets in the Triangle" for 2018. Grab a cup or a cone and learn more about how your favorite treat is helping to shape the future of dairy farming in North Carolina and beyond.
Inside the World of NC State Ice Cream