Chances are, most folks who have ventured onto North Carolina's vast network of roads, especially in farm country, have had the farm equipment experience.
You're cruising along, enjoying the drive and the scenery, or perhaps hurrying to or from work or trying to get the kids to school, when suddenly a big farm tractor or giant combine harvester looms ahead. Before you know it, you're behind the behemoth.
For many of us, the sudden deceleration can serve to accelerate a sense of irritation. What happens next — whether drivers become annoyed at their close encounter with a slow moving vehicle (SMV) and whether they create a dangerous situation by trying to pass unsafely — might change if we had a better understanding of why that big SMV is on the road, and of the importance of farming to our families and the state.
Since 2016, North Carolina motorists have been in at least 1,100 crashes involving farm equipment, resulting in 16 fatalities, according to the UNC Highway Safety Research Center.
As North Carolina continues to grow and our cities expand into traditionally rural areas, folks are increasingly likely to encounter farm equipment on local roads. North Carolina has the second largest state-maintained highway system and the No. 9 agriculture economy in the country, so if you haven't encountered farm equipment yet, it's likely only a matter of time.
In this episode of Homegrown, Extension experts with NC State like Alyssa Spence and Norman Harrell discuss how to drive safely around farm equipment, and why sharing the road with these tractors, combines and other equipment benefits you as much as the farmer.
Food for Thought
Agriculture is the No. 1 industry in North Carolina, with an economic impact of about $96 billion, and employs 17% of the workforce. Farmers produce the food we put on our tables.
The vast majority of their work takes place in fields on their farms, but sometimes they must venture onto public roads. They could be moving from one field to another, or moving equipment from farm to farm. They're aware of the impact on motorists and try to avoid the roads during rush hours and when school buses are out, but interactions with drivers are unavoidable. Just remember, they're traveling a short distance to ensure we have access to essential everyday products we may take for granted.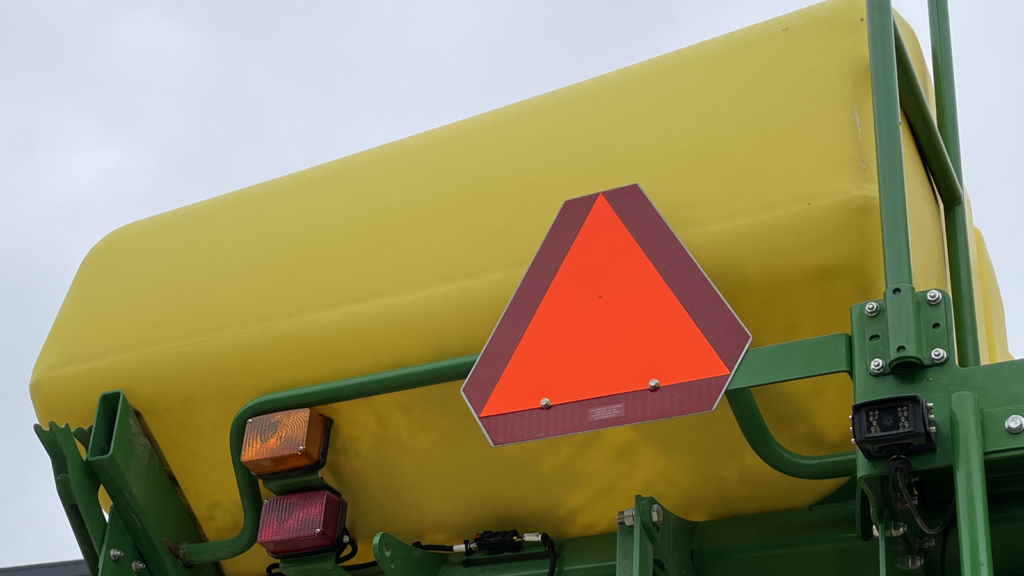 While it can be an annoyance to be stuck behind a tractor that is seemingly crawling along, they have a right to be there. State law allows an operator of a farm vehicle to use any road other than interstates and freeways, provided the vehicle is operated by the farmer or an employee and is used exclusively for farm business; it is used to transport either agricultural products, farm machinery or farm supplies to and from a farm; it is not being used for hire; and it is used within 150 miles of the farmer's farm.
In addition to knowing the importance of farming in North Carolina, and of farmers' right to the road, it's vitally important to understand the potentially dire consequences of a close encounter with an SMV. There were 1,174 crashes involving farm vehicles in North Carolina between 2016-20. More than 25% (336) resulted in an injury, and 16 caused a fatality.
Safety in Numbers
Any encounter with a farm vehicle on a public road is potentially dangerous. Here are some statistics to keep in mind.
A car traveling at 55 mph can close a 300-foot gap and overtake a tractor at 15 mph in about 5 seconds
40% of crashes occur between 2-6 p.m.
50% of highway accidents with farm equipment result in an injury
The most dangerous month for agricultural machinery on the highway is May
Research from the University of Minnesota has shown that the majority of crashes took place during the daytime (71.3%), on dry roads (79.4%) or in clear weather (71.4%)
Farm vehicles are required to follow safety protocols to keep operators and motorists safe.
Tractors operated on a highway at night must have one white light visible at least 500 feet from the front of the tractor and at least one red light visible from at least 500 feet from the rear of the tractor
Two red reflectors with a diameter of at least four inches may be used instead of a red light
Vehicles that travel less than 25 mph should be equipped with a clearly visible SMV emblem
SMV emblems should be located at the rear of the vehicle as near to the center as possible at 2' to 6' above the ground
Simple Safety Tips
Here are key things to keep in mind or that you can do!
Note the speed (~20 mph) and how quickly it can come about
Farm equipment has blind spots, so stay back in order to be seen
Follow basic traffic rules — don't pass if there is a double-yellow line, make sure there are no oncoming cars
Notice SMV (slow moving vehicles) signage and hazard lights and begin to decrease speed
A left-turn signal means the farm vehicle is turning left, not that it's OK to pass
Farmers aren't required to pull off the road, but often will give an indication that it is safe to pass
Slow down, be patient and remain alert