Most people don't notice Bradford Pears except this time in the spring when you see the white blossoms everywhere along the roadside. These trees were planted heavily some years ago across landscapes because they grew fast.
However, Bradford Pears are not a great landscape tree to plant, and NC State Extension horticultural experts, like Jeana Myers, are encouraging people to consider other choices. They don't smell good for one reason, and they tend to grow heavily at a one-crotch area, so those branches are not strong and will tend to break.
Probably one of their least desirable traits is that they are an invasive species, which is why you see them scattered through the woods along N.C. highways.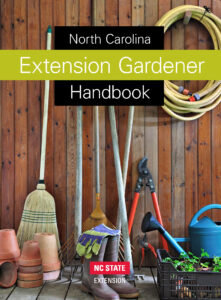 Grow your knowledge of landscape design and alternative options by referring to the N.C. Extension Gardener Handbook.
Perennial Favorite
Developed especially for Extension Master GardenerSM volunteers and home gardening enthusiasts, the new North Carolina Extension Gardener Handbook is an award-winning resource for research-based gardening and landscaping information. If you live and grow in North Carolina or the Southeast, this is your must-have gardener's guide.