True to its name, the Tahitian Treasure rose is a wonder to behold. With its vibrant colors from stem to petals, this flower makes an incredible addition to every garden and will last all season.
Mark Weathington, director of the JC Raulston Arboretum and an NC State Extension specialist in horticultural science, knows a thing or two about plants. Of the roughly 6,500 plants from around the world that he's helped to curate at the arboretum, this radiant rose is among his favorites.
Also known as the Rosa 'Radtreasure', this long-blooming, disease-resistant rose is quite versatile, which means you can plant it with just about anything else or even by itself.
The rose itself is a spectacle, with new growth that varies from deep burgundies to blue-green shades, and a flowering pattern that comes in clusters, filling the shrub with pockets of roses in different stages of blossoming.
Watch our latest Homegrown In the Garden segment for expert tips and tools for growing this treasure of a rose in your backyard!
Where Can I Find More Flower Resources?
A Perennial Favorite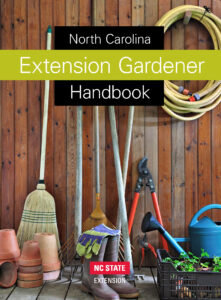 The North Carolina Extension Gardener Handbook is an award-winning guide to gardening and landscaping at home or professionally.
Developed by a team of horticultural experts at NC State, this manual for gardeners in North Carolina and the Southeast is available for free on the NC State Extension website and can be purchased as a hardcover book from UNC Press.