Chances are, you've likely seen the 4-H logo before; it's best identified by the green four-leaf clover with an H on each leaf (the four H's stand for Head, Heart, Hands and Health). But did you know that 4-H is the largest youth organization in the United States, with more than 7 million participants?
In North Carolina alone, 4-H serves more than 260,000 kids across the state through a variety of programs ranging from healthy living, cooking and citizenship classes, to summer camp and STEM-related sessions.
4-H is also the only youth organization based at land-grant universities, where it's coordinated by experts like NC State Extension specialist Liz Driscoll. Liz works to connect youth with issues in agriculture and natural resources in meaningful ways, like Project PLANTS.
Project PLANTS is a summer camp for rising 7th grade students who are excited to explore the natural world and see science from a new angle. Students are engaged in hands-on activities covering topics like plant breeding and propagation, vegetable and fruit production, post-harvest issues and environmental stewardship.
The Homegrown team caught up with Liz at NC State's JC Raulston Arboretum, where she introduced us to Project PLANTS – it stands for Planting Leaders in Agriculture and Nature Through Science.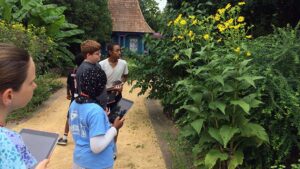 The program was designed to increase students' excitement for the sciences, allowing them to pull back the curtain and reveal the dynamic science behind horticulture. Now it's your turn, so take a peek at our latest In the Garden segment to discover how Project PLANTS is growing the next generation of researchers in the garden!
How Can I Get Involved?
Contact Liz Driscoll to learn more about the Project PLANTS program, and connect with the Extension 4-H agent in your Extension county center to see how you can get involved with other exciting 4-H activities throughout the year.