Gina Fernandez is a strawberry breeder and small fruit specialist with NC State Extension. She works to develop new strawberry varieties for North Carolina growers and the Southeast region, with a focus on breeding for disease resistance.
If farmers can't grow healthy crops of plump, juicy berries, it makes it a lot more difficult to enjoy that strawberry shortcake or pick-your-own farm experience during the spring!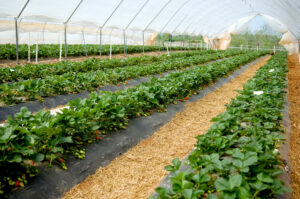 North Carolina ranks third or fourth in the U.S. in strawberry production, depending on how you measure it. These sweet spring favorites are more challenging to grow than they are to eat, especially during an unpredictable North Carolina spring laden with random frosts, storms and even snow or ice.
N.C. farmers primarily grow two strawberry varieties called Camarosa and Chandler, which were developed for California. Fernandez and NC State Extension are working to develop strawberries that are better suited for the region's climate and conditions – think of disease resistance and a longer growing season – while maintaining prized consumer characteristics like their color, size and flavor.
Where Can I Find Pick-Your-Own Strawberry Farms?
North Carolina Pick-Your-Own Farm Directory
Search for pick-your-own operations across the state by crop, county or region.
You can also find a seasonal availability calendar and tools for filtering your search for farm stands, roadside stands, farmers markets and more.
As far as what to do with those beautiful berries once you get home, we recommend…
SPINACH AND NORTH CAROLINA STRAWBERRY SALAD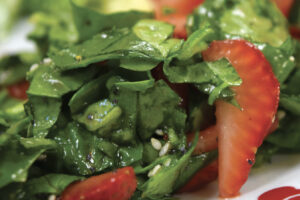 Serves 6

Ingredients
8 ounces of spinach (around one bunch), rinsed and dried
3 cups strawberries, washed and dried
1/4 cup of extra virgin olive oil
1/8 cup white wine vinegar
1/4 cup white sugar
1/8 teaspoon paprika
1 tablespoon sesame seeds
2 teaspoons poppy seeds
Instructions
Coarsely chop or tear the spinach. Cut the strawberries into slices.
In a large bowl, toss together the spinach and strawberries.
In a medium bowl, whisk together the extra virgin olive oil, white wine vinegar, white sugar, paprika, sesame seeds and poppy seeds.
Toss the salad mixture with the dressing. Serve at room temperature or cold.
Substitutions
The spinach leaves can be substituted with mild leafy green vegetables, such as lettuce.
Other fruit could be added to the salad, such as berries dried fruit.
Storing Strawberries
Store the strawberries in the refrigerator upon purchasing, where they will last for 2 to 5 days.
Help yourself to seconds on the N.C. Strawberry Association website, or visit NC State Extension's Strawberry Growers Information Portal for a look at the latest research and production practices.